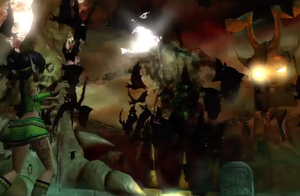 Shadow Trolls are a type of troll that dwell in the shadow realm. They can be considered bosses, although they are less important and rare compared to the 3 ancestor guardian demons. 7 of them have been released and each have a elemental sprite. Each area has two shadow trolls, with the exception of the Enchanted Kingdom, and Badlands, whereas the badlands have none and the Enchanted Kingdom has 1. Every shadow troll varies in power and health, with their order of power also their order of appearance. Kameo must use the shadow wells to get into the shadow realm.
To defeat the Shadow Trolls, Kameo must incapacitate lost souls that spawn throughout the arena and fire them as light energy at the Shadow Trolls to harm them, as no other method will damage them and Elemental Warriors are disabled in their arena. Walking into the Shadow Trolls or coming into contact with them or their attacks in any way (including a life-draining grab attack) will result in Kameo losing health. To escape, you must move the Left Thumbstick in any direction quickly. Dose not work.
Encounters
The Shadow Troll encounters cannot be done out of order as the abilities of the Elemental Warriors they hold are required to access the next Shadow Troll.
Trivia
The Shadow Trolls used to be Thorn's Warlords. After they took the 5 elemental sprites and the Wotnot, after Solon and Thorn vanished, the Mystic used her Sight to find them and Theena sent her armies to retrieve the 5 Warlords, before sending them to the Shadow Realm, unaware that she was condemning the 5 sprites as well.